International Incorporation: Form A US Corporation or LLC While Living Overseas
Ready to start your international incorporation?
Read below if you need to learn more before starting...
I have been asked many times by visitors living outside the United States how they can incorporate a legal, US-based LLC while living overseas.
In other words, is it possible to do an international incorporation, and if so, is it difficult and/or expensive?
The good news is that international incorporation is becoming more and more common, and the cost and additional difficulty is less daunting than you might imagine.
Choosing a State For Your International Incorporation
The first step in forming an LLC while overseas is to choose the state in the US where you want to incorporate your limited liability company.
Normally I suggest that individuals living in the US incorporate in the state in which they operate their business. However, as an international owner of a US LLC, you are equally able to form an LLC in any state.
However, if you form your international LLC in either Delaware or Nevada, they drop the LLC formation fee by $50 to only $465.
Both Delaware and Nevada are business-friendly states and are popular states in which to incorporate.
I would suggest incorporating in either Delaware or Nevada for your international LLC.
What Is Included In Your International LLC Formation With The Company Corporation
The Company Corporation's international LLC formation/incorporation package is very comprehensive. It includes:
Completion and filing of the articles of formation for your new company
Expedited incorporation filing service
Company Name Search and reservation
1 full year of Registered Agent service from The Company Corporation
Free subscription to our quarterly Business Builder eNewsletter
Complimentary "My Account" online service tool designed to help small business owners remain compliant with government regulations and keep them in good standing with the state.
$50,000 Corporate Veil Guarantee
FedEx Overseas Delivery once documents are received from the state
Certified copy of your formation documents
Apostille that authenticates the signature of the U.S.-based Secretary of State

Deluxe Corporate Kit including:

Personalized Kit with Slip Case
Corporate Hand Seal
20 Stock/Member Certificates
Stock Transfer Ledger
Sample Bylaws/Operating Agreement
Sample Minutes
An operating agreement
EIN (Employer Identification Number)
Both can be added onto the package for a price. I would strongly urge you to pay the $99 for the LLC operating agreement.
Your EIN can be purchased from the Company Corporation for $175. This is a much higher price than for US citizens, but I suppose that the process is more involved, due to Homeland Security and other such concerns.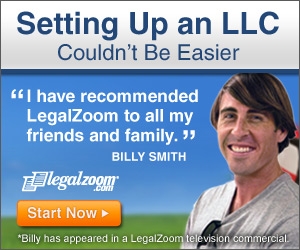 comments powered by

Disqus