how to form LLC in NJ
by Dona Dababneh
(New Jersey)
Can i form LLC on my own and do i need an agent? i live in NJ and i want to form LLC. can i do it online without going to Trenton to submit the forms and where i can find the cost.
Thank you

Answer

You definitely do NOT have to go to Trenton! :)

You can form your LLC online by clicking here. That link will take you to Legalzoom.com, a leading legal document processing company. They have formed many LLCs for visitors of this site, and I haven't had any complaints yet.

When you go to Legalzoom, it will show you their fee + NJ's state filing fee.

As far as an "agent", I assume you're referring to a registered or resident agent (the term varies state by state).

Yes, you do need a registered agent for your LLC. You can use your home or business address, or for an additional fee, Legalzoom.com (linked above), will act as your registered agent.

The advantage to being your own agent is that is free.

The disadvantages of being your own agent are:

your address becomes public knowledge
you end up on a ton of junk mail lists
if your LLC is ever sued, you'll be served at your home (embarrassing)
Return to How to Incorporate a Small Business - Q&A.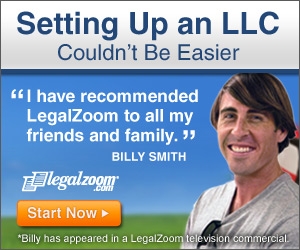 comments powered by

Disqus